PVR 5000 Satellite Receiver and Digital Video Recorder in one box!

Pause and play. Control live TV shows like a VCR
Watch a live show while recording two other programmes

simultaneously
Simply press one button for automatic recording of TV shows
Make your personal channel list with the "Favorite" button
Click "Bookmark" for the moment you want to watch again
Indulge in sports shows with great features like frame by frame advance, multi speed slow motion and instant replay
Connect your MP3 player or digital video camera to HUMAX PVR-5000 via USB and IEEE1394
Enjoy video files on your TV screen and edit your family video album.
Listen to MP3 music files played with Dolby Digital sounds
Humax PVR8000

Digital Satellite Receiver
MPEG-II Digital & Fully DVB Compliant.
2 Common Interface slots for CA modules.
User Friendly Graphic Interface.
Advanced Electronic Program Guide (EPG).
Program search in automatic, advanced, manual way.
Favorite channel list organizing.
Multi-language support.
Parental Control by age limitation.
Easy and automatic installation step by step.
Software upgrade via satellite and serial port (RS-232C).
Max. 4,000 Channels for TV and Radio.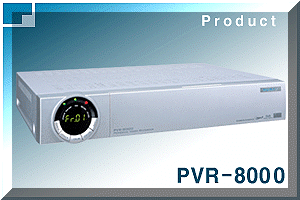 Digital Video Recorder
Recording on HDD.
Recording Video and Sound in digital quality.
Recording a channel while watching another channel simultaneously.
Pause and play live programes.
Automatic record of a series of episodes.
Time Shift Recording (TSR) for max. 1 hour.
Trick play in TS mode and in Playback of recorded service.
Fast forward & Rewind, Slow motion, Instant replay, Quick skip play.
Reserved viewing and recording with advanced EPG.
Recording in scrambled mode.
Various HDD capacities said to be available.Some specific HDD models though of seagate are recomended and extendable with various HDD capacities for your needs
PVR 8000 60 Gb Hard Disc .
2 Tuner,
Front load of removable hard disc,
Usb connection,
2 common interface,
New chipset by Thomson

Humax will not produce long waited PVR6100 receiver with hard disc. Instead, it will introduce on the market, model marked as PVR8000 already on the beginning of February 2003. Humax representants have informed about this on the conference Humax 2002 in Wroclaw in Poland.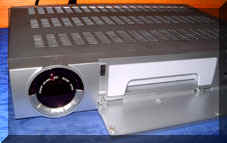 New model of Twin receiver with hard disc - Humax PVR8000 has disc (60GB) placed in the special drawer, similary like in computer. Hard disc drawer is placed under receiver front panel flop cover. Receiver has also USB port as well as two Common Interface slots.
PVR8000 receiver after chipset exchange from Philips to Thomson will replace on the market PVR6100 model, which has not been even introduced to the mass production. Humax has decide to re-design receiver model with the hard disc, and enter on the market with only one new type PVR receiver, instead of two models. Especialy, when one of the models will not be successfull.
The interesting thing is, that Humax has choiced Poland, as the first European country, where Humax PVR8000 were officially shew. In view of PVR8000 constructional changes, it will be available on the European markets on the beginning of February 2003.
In May 2003 Humax will enter on the market with following super- model of satellite receiver with DVD, disc and tuner - DVB Combo/S. Later will be DVB Combo/T for DTT. In the middle of the next year, Humax will show its following satellite PVR receiver, model with hard disc embedded - HighEnd PVR on which Humax engineers work at the moment.