MAGIC MODULE
After Universal CAM , the family of the Common Interface becomes rich of a new model: the Magic Module
The main characteristic of this product is the presence of flash memory more times programmable in order to modify
to appeals to the type of codifies present to the inside of the CAM.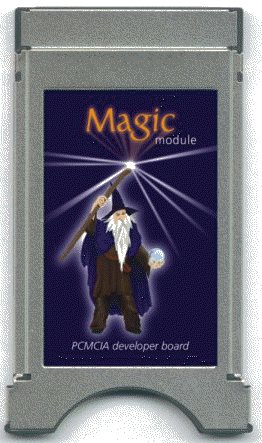 This module contains a fast ARM7 processor at 30Mhz, a big RAM memory (256KB) and a flash module (2MB). Because the module runs on 3.3v chip technology, there is very little heat coming from the module.
Together with the programmer you can load your own applications into this module, for example applications to:
- Encrypt data traffic, using smartcards, in laptops (mobile business)
- A laptop smartcard reader/writer
- Access controll for laptops
- Development platform for your own DVB encoding systems
- Works with FUN 5 IN 1 !
- This platform runs on 5V and is 100% PCMCIA compatible!
To program this device you will need the seperate programmer and a serial cable! You can download the software for uploading images to your module is MAGICLOAD.EXE
If you have the Linux beta driver available,then it will provide you with read and write access to the module in a PCMCIA slot: Linux Driver 0.1 and use this module in your PC.

The CAM, lately, comes recognized with the identification 1.0xPENTA and introduces three selections under its menu:
1. Card Info : it contains all the information about the smart card.
2. Settings : functions in order to shape the CAM. (Goalkeeper / Suppress No-Access Message)
3. Prepare for Loading : this option is activated when it is desired to connect the CAM with your PC.
Latest h/w version of this module is theMagic Module V1.03 . It is supplied with Penta 1.09 installed.

Pentacrypt emulates all these CAM types :

Seca 1 & 2,
Irdeto 1 & 2 & Betacrypt,
Viaccess 1 & 2,
Nagravision.
Also most important is the fact that handles x-in-1 Fun (Seca Irdeto Beta Viaccess Nagra) very well .

New in this version (penta 109)

Support for original cards was broken is 1.08, fixed
Added option to suppress the"no-access" message (menu->settings)
Pressing "OK" will now also cancel any popup message (before only "exit" worked)

Future add-ons will include Conax, Cryptoworks + others.
All of which will be upgradeable using the Magic Programmer
MAGIC MODULE can be handled the way we want to , by using a loader program which is called
magic module loader .With this loader s/w , and by connecting your pc through a season 2 interface to
the module, you can program the module as desired .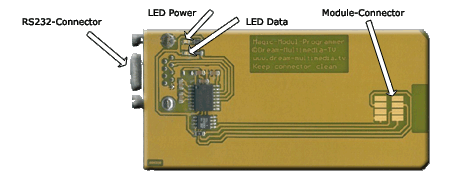 We simply insert the season into the module and connect to a serial port of our PC .
Programming the Magic Module
For the programming a Magic Module you will have to use a Magic Module Programmer. With this programmer you can upload software to your Magic Module.
Connect the Magic Module (by using a serial cable) to your PC; notice the software program Magic Load is all ready installed on your PC, this Magic Load software is a freeware program that makes it possible to send the data through the serial cable to your Magic Module Programmer en let it communicate with the Magic Module.
1. Install Magic Load on your PC
2. Connect the Magic Module Programmer to your PC by using a serial cable, and put it into the Magic Module.
3. Insert your Magic Module in your device with power ON ( power supply is needed ).
4. Start the Magic Load software on your PC.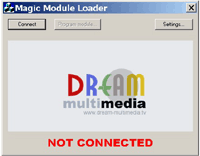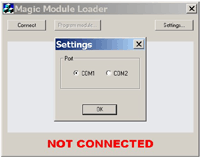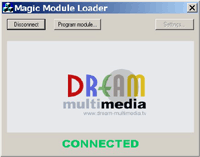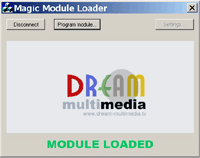 5. As you can see on the pictures above, starting the program will show " not connected " , choose in " settings " the right COM port for your PC and click on " connect ".
6. Choose the file you want to upload to your Magic Module from e.g. hard disk or diskette.
7. Click " program module " to upload the file to your Magic Module, the LED indicators will light up in red and green to show you data transmission has started and will take several minutes.
8. " module loaded " will appear when your Magic Module is ready and loaded with the new software.
If you want to program your module again with later or other software you will have to get the Magic Module in programming mode again. This can be done by inserting and extracting the Magic Module from your device with power ON two times without card inside. The third time insert and will start the DREAMLOAD programming mode.
Please note that the mentioned names of Viaccess, Mediaguard, Irdeto, Betacrypt, Nagravision, Conax, Cryptoworks are trade mark names belonging to their respected owners. They are only mentioned to show this CAMs compatibility with these officially supported cards.